Great insights into your constituent base and giving opportunities come from analyze donor giving behavior and trends. GivingDNA lets you quickly filter your data so you can get valuable insights quickly and start taking action.
When you are logged into your GivingDNA account, click on the Dashboards box on the top of the screen and select the "Dashboard" you wish to view: Constituent, Giving, Major Giving or Benchmarking.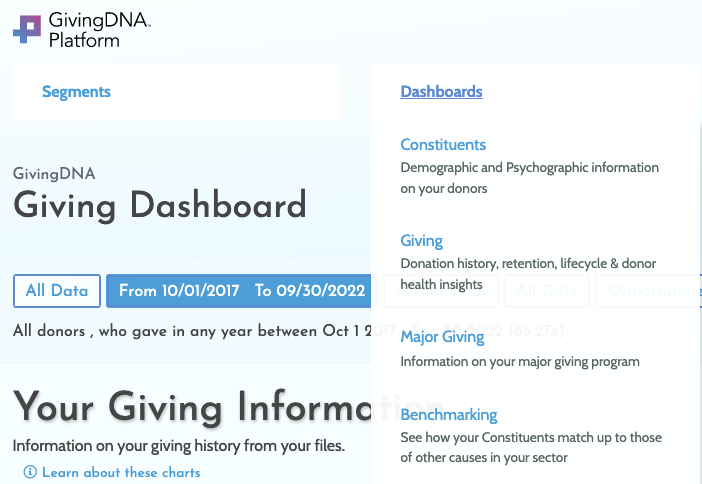 When the page loads, you will now be on your dashboard. Here you can easily toggle between dashboards. Once you are ready to filter, decide which criteria you would like to filter by:
Giving Timeframe: You can filter by a timeframe or a specific date range. (*Note we can only filter based on the history you have uploaded.)
Giving Total: how much a constituent gave, in total vs individual gift
All Gifts vs latest gift
State: You can drill into specific states to analyze where your donors are
Opportunities:

Donors with a High Risk of Lapsing
Donors likely to upgrade
Lapsed Donors - 12 to 18 months

Advanced
Once you create a filter you find valuable, simply click the "save button" and it will save this view as a segment. After you have saved the segment, you will be able to retrieve it and all your other saved segments by clicking the "load" button or by navigating back to your menu in the upper right of your screen and clicking "segments".
Want to export your segments so you can take action based on your segments? Click upgrade to unlock premium features, including the ability to export your segments.
Have questions or need help with your files or getting started on GivingDNA? Search this knowledge base anytime where you can use our self-help documents, chat with a Customer Success team member, or email us anytime at support@pursuant.com