Identifying donors who you can upgrade to a larger donation is very important. There are many factors that go into making this insight including repetition of giving history and giving amount.
Once you upload your constituents and gifts data onto GivingDNA, the platform goes to work for you and identifies a series of 'Opportunities'. One of those Opportunity Alerts is identifying which of your donors are primed to upgrade their giving if asked.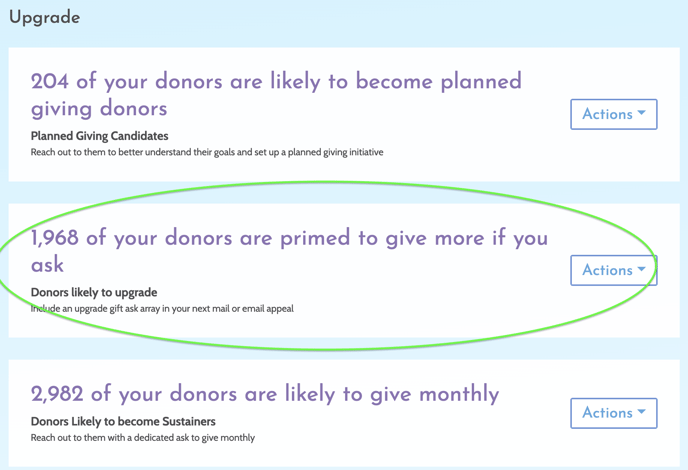 This alert is created using an RFM model. Donors in the Upgrade Alert should receive an upgrade gift ask array in your next mailing or email solicitation.
Encouraging them by referencing the last amount they gave to inspire them to give more. Show the difference only a slight upgrade will make with examples
Sharing the impact of their past gifts. When you know which campaign they've donated to, you can remind donors of what they've already achieved. By showing constituents you're a good steward of their funds, you'll be more likely to secure a second donation
Inviting them to join your Giving Society if you have one and they aren't presently members
Putting them on a cultivation track with personal or personalized outreach. Building the relationship will then allow you to successfully make a larger ask