Welcome to GivingDNA. This user guide will provide you with everything you need to need to know, and do, to get started with your new GivingDNA Account.
Getting setup is very simple, it just takes a few steps to be on your way to making valuable insights using your constituent and donor dashboards.
Step 1: Verify Your Account
When you sign up for a GivingDNA account, it is important that you go to your email and find the email from support@givingdna.com, subject line: Verfiy Email (note: don't see the email? Don't worry, check your junk mail, archived mail, and promotions folders as these types of emails can easily skip your inbox.) Once you locate the email, click the blue "verify" button. This will prompt a the GivingDNA login page to load.
You are now ready to login using the email and password you created when you signed up.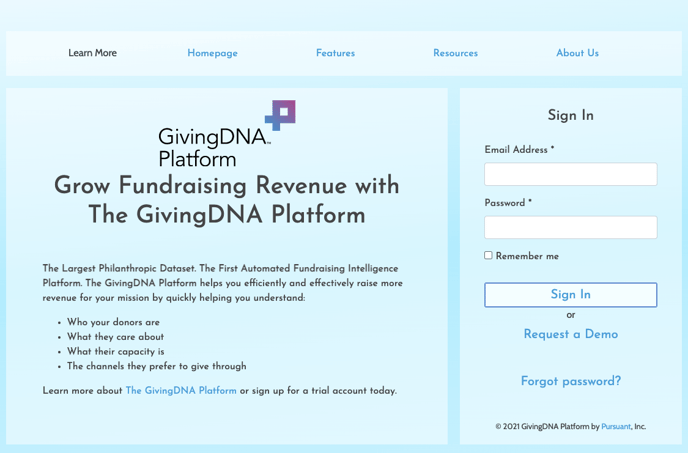 If for any reason you forgot your password, please go back and re-sign up with the same email and repeat the verification process, as the "forgot password" link will not work until you have successfully signed in at least once.
Step 2: Complete "your profile" & "Cause" Settings
When you log in for the first time to your GivingDNA account, click on the menu box in the upper right corner and then click "cause settings"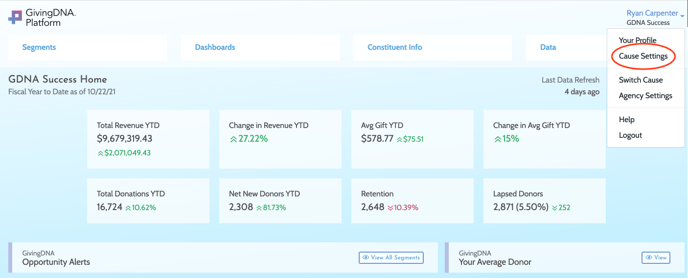 This is where you can update your cause information - Name, Sector (ie: Arts, Culture, and Humanities), Address, City, State, and Zip Code. To edit this info, click the "update cause info" button.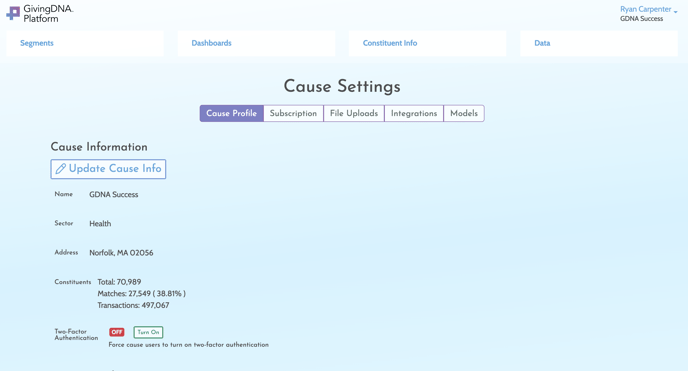 Step 3: Check Out Your Pre-Populated Sector Constituent Information
When you signed up for your GivingDNA account, you entered your "cause sector", this enables you to immediately see your Sector Dashboard. This will help you understand the demographics and philanthropic behaviors of people who donate to other organization's in your sector.
Step 5: Upload Your Data
You are now ready to start uploading your data and taking advantage of the powerful dashboards provided by the platform. Uploading your constituent and giving files into GivingDNS is very simple, just follow these steps. Simply click the "Upload Constituent File" or "Upload Giving File" from your Segments Dashboard. You will then be prompted to select your .csv file from your computer. if you'd like step by step instructions, you can follow this helpful guide.

Step 4: Unlock the power of your data
Now that your Sector, Giving and Constituent data is loaded into GivingDNA, you can do things like:
Analyze organizational and sector performance and explore data that matters most to you
Use Filters to view your people by age, gender, household income or education level
Get key growth and giving reports like Donor Count, Revenue and Average Donation and more!
Export key data that you want to take action on (Paid Feature).
Have questions or need help with your files or getting started on GivingDNA? Check out this help page that explains how you can get the help you need with your GivingDNA Account!